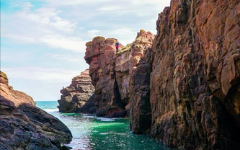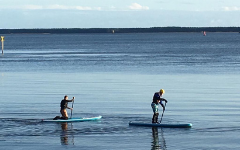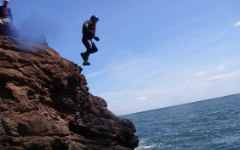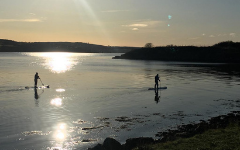 Adult Adventure Activities
Fancy trying something different with a group of family or friends? We have some set price offers available for adults just now.
If you have a large group then why not request a chat with our Centre Manager to see what we can offer. Simply request a callback via our admin team on 01382 435911 to discuss options or drop us an email at ancrum.centre@leisureandculturedundee.com.
Package 1: Coasteering
For 16 years +, min 4 participants up to maximum of 8 (session: 11am-3pm, times may vary to suit group)
Come and book onto what we can only describe as our best and highest adrenalin filled activity on offer with your group for an amazing adventure journey, coasteering the world-famous Arbroath cliffs coastline. Ability to swim confidently and jump from heights and swimming through the cave systems is a must. This is a thrilling experience whilst in the safe hands of our highly qualified and experienced coasteering guides and the only provider of this activity in the Tayside region.
Please note, we do not offer discounts for numbers less than maximum 8 allowed in this offer.
---
Package 2: Stand up Paddleboarding
Age 16+, min 4 adults - up to max of 8.
Fancy trying one of the most popular watersport that is all the craze right now. Our fully qualified paddlesport / SUP instructors will lead your group on a brilliant introductory session to get you learning all the skills and knowledge required to take up this sport safely so you don't end up like the silly people that rush out and buy a board and head straight out and get themselves in trouble in the Tay Estuary. We shall teach you efficient paddling strokes, balance, weather and water conditions including tide, kit, rescue techniques etc.
This is a must try for families, friends and/or special occasion groups.
We run these intro sessions in fresh water lochs then progress on taster sessions out in the Tay Estuary.
---
Package 3: Canoeing
For 16 years +, min 4 participants - up to maximum of 8 (session: 11am-3pm, times may vary to suit group)
This is the perfect adventure for adults looking to get out in the water and have a lovely experience at your own pace. Canadian canoeing with Ancrum Outdoor Centre is a fun and really safe way to get out on our beautiful lochs and rivers to explore and spot wildlife all in the pleasant company of our highly experienced and qualified guides who shall teach you the basics and get you paddling smoothly across the water, take you on a journey and leave you with fantastic memories. We require a minimum of 4 people to take part in this package offer and will depend on our availability due to high demand.
---
Package 4: Sea kayaking
Our experienced guides will lead you on a sea kayak day trip along a beautiful stretch of coastline. The East coast of Scotland boasts hidden caves, secluded beaches and castles many of which cannot be accessed without a boat. The coastline has a rich history and culture and the wildlife is sublime with seals, dolphins and puffins seen on most trips. Our modern fleet of sea kayaks are stable and ideal for the beginner or those with more experience. Your guide will teach you how to handle your sea kayak or help you develop your existing skills, all the time sharing with you the rich wildlife and wonderful views.
---
Contact Us
If you would like more information please complete an enquiry form or call Ancrum Outdoor Centre on 01382 435911.