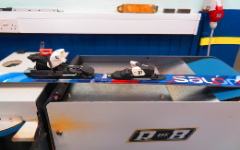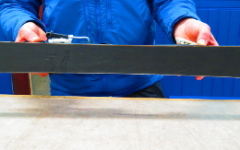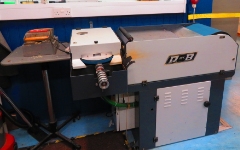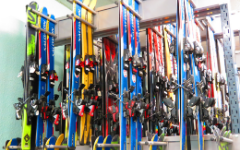 Ski and Snowboarding Servicing
Ancrum is the very best Ski and Board Repair Centre in the Tayside area and by far the most competitive in terms of value for money, quality of repair and our World Host accredited customer care.
Just bring your kit to the Centre, complete your service card and our talented ski technicians will inspect, service and contact you when they are finished. If the inspection identifies anything more needed other than what you have selected, the technicians will call you to discuss. Skis / Snowboards can be dropped off and collected during our office hours from Monday to Friday, 9am - 5pm.
Talented ski technicians will inspect your equipment, provide their professional opinion with you on what work needs done to get your skis and boards in the best condition possible for the snow. Our technicians will take photo of condition of your equipment when you bring it into the Centre as proof of condition until you collect and sign the declaration that you are 100% satisfied with our service.
Servicing Packages (see what each service includes below)

Ski / Snowboards

Cost

1

2

3

4

5

6

7

8

Premium Service

From £30

✔

✔

✔

✔

✔

✔

✔

✔

Base Plane, Edge Tuning & Hot Wax

£25

✔

✔

✔

 

 

✔

 

✔

Hot Wax & Edge Tuning

£18

✔

✔

 

 

 

✔

 

✔

Hot Wax

£14

✔

✔

 

 

 

 

 

✔

Binding Mount / Re-drill

£30

✔

 

 

 

 

 

 

 
Service Includes:
Full inspection by our certified technicians
Base clean to cleanse the pores of your base
Belt grind to exfoliate dirt and correct minor base damage
Fill small gouges with P-tex filler
Fine belt grind to achieve restructure base
Sharpen and tune edges to desired specifications
De-tune tip and tail edges
Hand finished hot wax and polish for the ultimate penetration, protection and finish
Contact Us
If you would like more information about our ski and snowboarding services please email us at ancrum.stores@leisureandculturedundee.com or call Ancrum Outdoor Centre's Stores on 01382 435912.