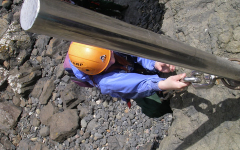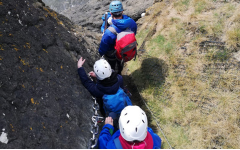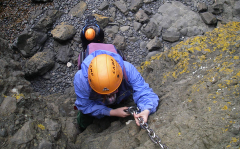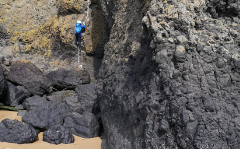 Chain Walking
Chain walking is an exciting and unique activity provided by Ancrum Outdoor Centre which takes place in Elie on the Fife coastal path. The route challenges participants (equipped with harnesses and helmets) to journey on a section of this path by means of walking, scrambling and moving across steep sections with the aid of chains bolted on to the cliff face. The rock formations here are stunning with a series of wide ridges extending out to the sea. Together with footholds, a number of bolted chains provide something to cling to as you slither up, down and along while waves crash in from the sea. This is a breath-taking route which defies being termed a mere 'walk'. An adventure for all aged 9 and over to try. This is a not to be missed activity!  Anyone wishing to book a private party for this activity would require a minimum of 5 people.
Equipment and Kit Information
We will provide all necessary equipment for this activity including harness, helmet and appropriate rock boots. We recommend that participants wear loose clothing.
Contact Us
If you would like more information please complete an enquiry form or call Ancrum Outdoor Centre on 01382 435911.