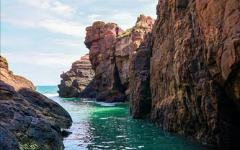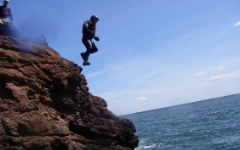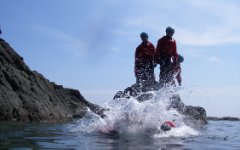 Coasteering Activity
Ocean swimming, rock hopping, small cliff jumps, scrambling over boulders and exploring a coastline without a boat or craft all in one journeying activity then coasteering is the answer.
A popular venue used by Ancrum Outdoor Centre for this high energy activity is the nearby famous Arbroath cliffs where you will progress from swimming in calm waters to adventure swimming in sections of rough or whitewater and against tidal currents whilst rock hopping, scrambling and jumping from a variety of small cliffs into deep pools and exploring the impact zones where water, rocks, gullies and caves come together. Anyone wishing to book a private party for this activity would require a minimum of 5 people.
Coasteering Services
Ancrum Outdoor Centre is a member of the National Coasteering Charter (NCC) and has been involved in the development of coasteering for over 20 years. We offer instructor training, continuous professional development workshops and technical advice. Please contact the centre to discuss your requirements.
Equipment and Kit Information
Participants will be kitted out in full steamer wetsuits, buoyancy aids and water sport helmet. You must be able to swim a length of a swimming pool but most importantly be water confident in open water. We require participants to bring an old pair of trainers, a pair of loose fitting shorts to wear over your wetsuit, a towel and a sense of adventure.
Current Courses / Offers & Packages
If there are no current courses listed for this activity further down this webpage please note that you can book up this activity privately as highlighted in our group offers/packages webpage.
Contact Us
If you would like more information please complete an enquiry form or call Ancrum Outdoor Centre on 01382 435911.